WEBSITE COPYWRITING FOR TOURISM BUSINESSES
WRITE CHOICE is passionate about helping you and your business put your stories into words. We specialise in creating inspiring, persuasive, clear and effective copy for websites, including vital keywords to keep you high in search engines. This text can also be used or adapted across for use across all booking channels - booking.com, Airbnb, hotels.com and many more. We can back this up with copy for your e-newsletters, brochures, adverts, or anything that needs WORDS

TOURISM IS OUR BUSINESS TOO.
We have our own Coromandel Bed & Breakfast – so know how much writing is needed to keep up with all possible outlets and links. See
www.harbourviewlodge.co.nz.
So if you own a Motel or Hotel, Bed & Breakfast, Holiday Home, Bach, Holiday Park, Attraction or Experience, Restaurant or Cafe or a Transport Operator, get in touch with us. It's the WRITE CHOICE
TIME SCALE, THREE STEP PROCESS AND COSTS
We aim to have each piece of work completed within five working days, from start to finish, though the timescale will always depend on your needs and wants. If you want it quicker, or want to take more time getting it right, that is all fine. See the THREE STEP process on this page

Our charges are $290 per 1000 words (minimum charge), thereafter pro rata. We generally find that around 1000 words, or two pages of core text, is enough for most tourism business websites, but of course this will depend on your requirements, the size of your business and how much you want to say. (THIS WEBSITE IS JUST OVER 1000 WORDS IN TOTAL!!)

1. SEND US DETAILS ABOUT YOU, YOUR BUSINESS AND LOCATION.
This can be bullet points, brochure copy, a previous website, anything that tells us more about you, where you are/what is nearby, what you do, (product information, details, prices, facilities, features), about you and your team, and any other information you think is relevant. We would also like to know
who you think your customers are
. What do you think you customers are looking for before they have heard of you (to help us know which KEYWORDS to include)
2. FIRST DRAFT
We will draft and send you an outline from what you have sent to make sure the core content is correct, says what you want and that it all fits together. This will give us a rough idea how long the finished version could be – and we can always edit down, or add more if needed. We will make sure that your KEYWORDS are included often enough (KEYWORD DENSITY) to give the best Search Engine results, and include the important calls to action.

3. FINAL COPY
Once you are happy with the outline, we will edit and re-write the content to be readable, inspiring, interesting, informative and creative enough to persuade the reader to take the next steps and contact you or make a booking. We use clear headlines with short paragraphs and sentences. This draft can still be re-edited until it is just as you want it. We will review the copy with you over time, usually after three months, to suggest changes or additions or up-dates.
June 22, 2017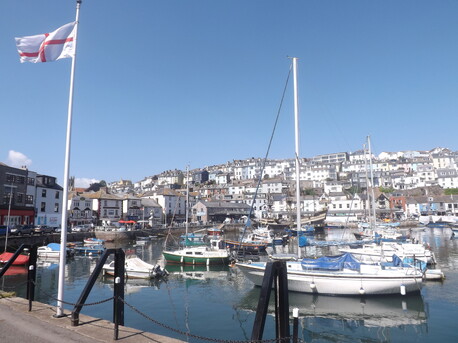 How do you make a crab roll?' Brixham is a historic and bustling fishing port at the southern end of Tor Bay, just over 3 miles across the water from Torquay.Getting there takes 30 minutes by ferry from Torquay harbour, an amazingly good value journey on the Western Lady ferry, since fares were sl...
read more